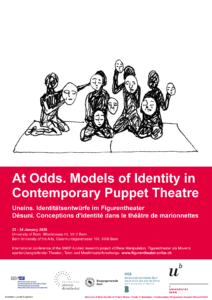 Colloque international à Berne (Suisse), conférences, atelier et spectacle en français, anglais et allemand.
Participation libre et gratuite.
DÉSUNI. CONCEPTIONS D'IDENTITÉ DANS LE THÉÂTRE DE MARIONNETTES
UNEINS. IDENTITÄTSENTWÜRFE IM FIGURENTHEATER
AT ODDS. MODELS OF IDENTITY IN CONTEMPORARY PUPPET THEATRE
23 & 24 janvier 2020
Université de Berne & Haute école des arts de Berne
PROGRAMME :
Thursday, 23rd January 2020
UNIVERSITY OF BERN, MITTELSTRASSE 43, ROOM 216
09:00 – 09:15 Opening Address Beate HOCHHOLDINGER-REITERER & Andi SCHOON
09:15 – 10:00 Keynote Meike WAGNER (University of Stockholm): «Who am I? Challenging the Self through Puppets», Chair: Christina THURNER
10:00 – 10:15 Coffee break
10:15 – 11:45 Panel Object Identities
Jessica HÖLZL: «Assoziierende Fragmente. Spielweisen im Dingtheater der Gegenwart»
Lucie DOUBLET: «La marionnette et le cyborg»
Karol SUSZCZYNSKI: «Character – Object – Symbol. The Ontological Versatility of the Dummy-like Puppets in the Contemporary Puppet Theatre for Youth and Adults in Poland»
Chair: Franziska BURGER
11:45 – 14:00 Lunch break
Afternoon
BERN UNIVERSITY OF THE ARTS, OSTERMUNDIGENSTRASSE 103
14:00 – 14:05 Welcome Speech (Room 140)
Florian REICHERT (Bern University of the Arts)
14:05 – 15:05 Panel Alterity (Room 140)
Paul PIRIS: «The Puppet as a Figure of Alterity in Contemporary Theatre»
Demis QUADRI & Yvonne SCHMIDT: «Performing Agency. Exploring Puppetry from a Disability Perspective»
Chair: Marcel BEHN
15:05 – 15:30 Coffee break
15:30 – 18:00 Workshop Der geteilte Körper/The Split Body (Auditorium)
Markus JOSS (Ernst Busch Academy of Dramatic Arts, Berlin)
18:00 – 19:00 Apéro
19:00 – 20:30 Performance (Auditorium)
Florian FEISEL (State University of Music and Performing Arts Stuttgart): « Puppen sterben besser »
Stanislas PILI (Bern University of the Arts, Théâtre musical): « theoneandthemore » (Composition: Fabrizio Di Salvo)
Friday, 24th January 2020
UNIVERSITY OF BERN, MITTELSTRASSE 43, ROOM 216
09:00 – 09:15 Recap Day 1 Laurette BURGHOLZER
09:15 – 10:00 Keynote Hélène BEAUCHAMP (University of Toulouse Jean Jaurès): «La marionnette dans les expériences théâtrales des avant-gardes historiques : la dissolution de l'identité ?», Chair: Laurette BURGHOLZER
10:00 – 10:15 Coffee break
10:15 – 11:15 Panel Femininities
Cariad ASTLES: «The Return of the Puppetress/Sorceress: Feminism, (Auto)Biography, Ecology»
Alexandra BERALDIN: «Dislocated Identities. Bodies of Becoming in Uta Gebert's Manto and Ilka Schönbein's Winterreise»
Chair: Andi SCHOON
11:15 – 11:30 Coffee break
11:30 – 12:30 Panel Hybrid Bodies
Mélissa BERTRAND: «Tuer le visage. Faire corps avec la matière»
Émilie COMBES: «De l'inerte au vivant, déconstruction et reconstruction de soi : quand la marionnette ouvre les portes du sensible»
Chair: Laurette BURGHOLZER
12:30 – 13:30 Lunch break
13:30 – 15:00 Panel Third Space Identities
Salma MOHSENI ARDEHALI: «Identity of the Puppet and Multiculturalism»
Anaëlle IMPE: «Grimm. Un conte allemand»
Jean YOUSSEF: «Le théâtre de marionnettes en Liban : une mosaïque d'identités»
Chair: Angela KOERFER-BÜRGER
15:00 – 15:15 Conclusion and Outlook
International conference of the SNSF-funded research project «Offene Manipulation. Figurentheater als Movens spartenübergreifender Theater-, Tanz- und Musiktheaterforschung» led by Beate Hochholdinger-Reiterer, Christina Thurner and Andi Schoon.
Organising Committee
Marcel Behn, Franziska Burger, Laurette Burgholzer, Angela Koerfer-Bürger, Nadja Rothenburger.
www.figurentheater.unibe.ch
The conference can be attended free of charge. No registration required.